I wrote this for Victorian Homes Magazine, and thought you might enjoy it.
The holidays are rich with tradition, this year why not revive the lovely Victorian custom of a formal Christmas Luncheon? To add enchantment to your holiday, take inspiration from our Victorian Christmas Luncheon table set with pieces from our collection of antiques. Christmas is the time to use the most beautiful things you own. Antique linens, dishes, serving pieces and silverware makes the most delicious holiday offerings look even more tempting.
1. A formal invitation. Set the tone of your Christmas Luncheon by making your own Victorian inspired invitation. Replicate a favorite antique image from a Victorian holiday card, or download an image from your computer to print out on your laser printer. Tie a ribbon for a luxurious detail through a hole you punch in the top. Though created with modern techniques, your thoughtful invitations are sure to be admired and delight your guests.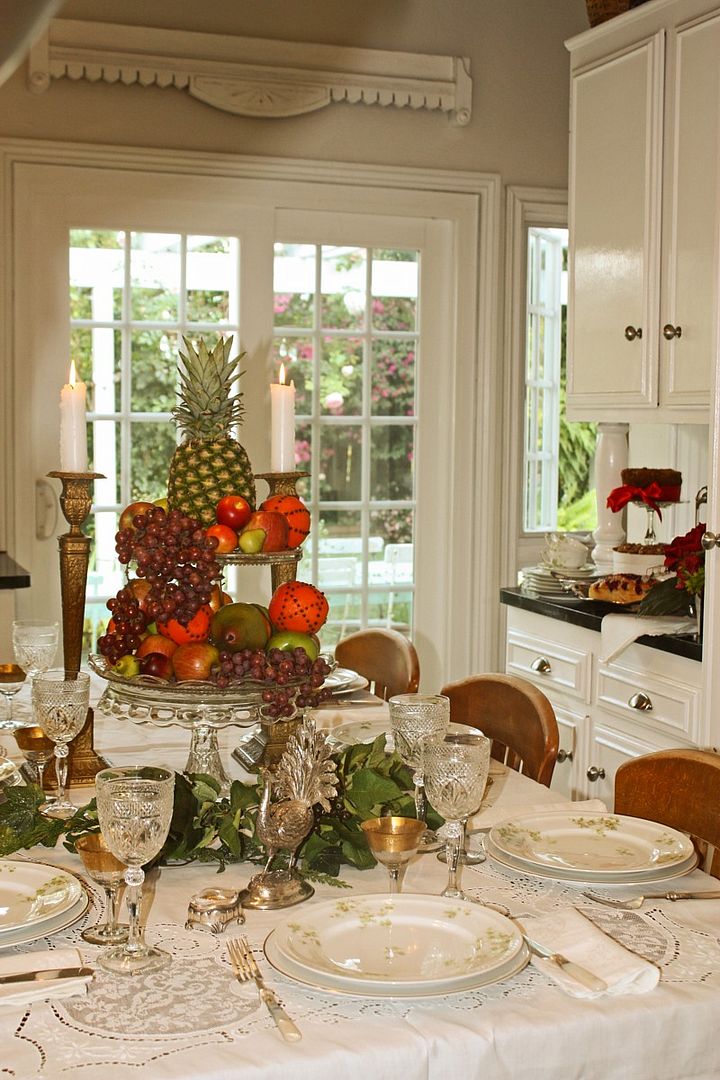 2. Set an exceptional table. This is the time to bring out your most resplendent pieces. Like an illustration of a long ago Christmas, this fine cut work tablecloth provides the perfect backdrop for antique holiday tableware. The French Limoges plates blossom with delicate Green Roses, while the Mother of Pearl silverware adds a glow of the past. An antique French sterling salt cellar and rare silver vinegar holder in the shape of an ostrich add Victorian flair to this setting.
3. Bring the beauty of nature indoors. Fabulous holiday fruit arrangements are a Victorian tradition, especially at Christmas time. On this table, two stacked glass compotes hold a variety of fruits for display, a garland of rose leaves, arranged underneath, are the perfect compliment.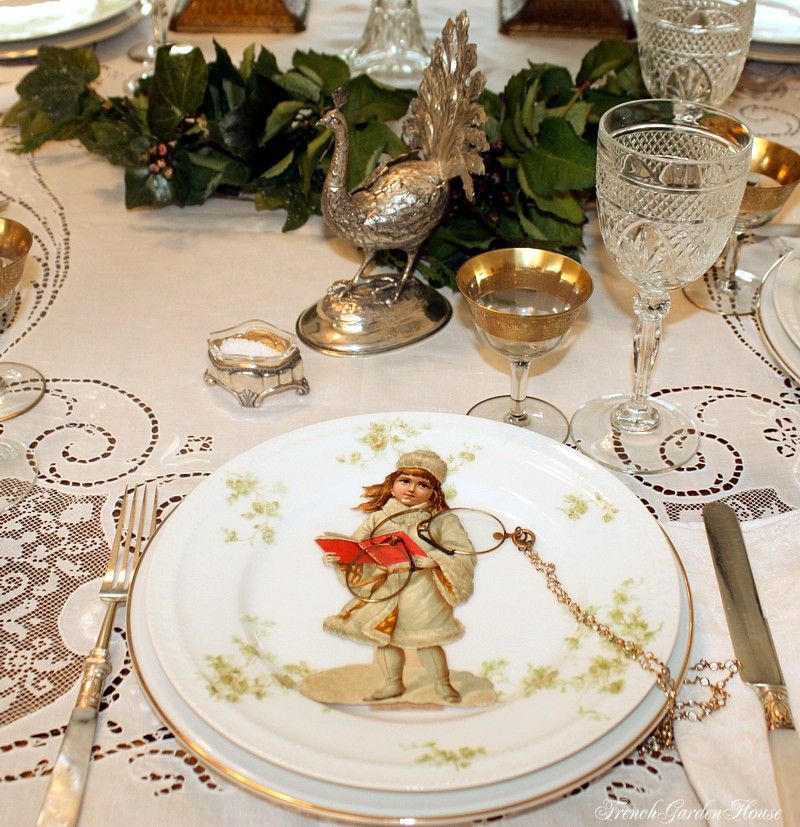 4. Favor your guests.  In the delightful  spirit of giving, collect unusual favors for each guest to place at each setting. This year I used antique Scraps, and enduring example of Victorian scrap art, on each plate for guests to take home.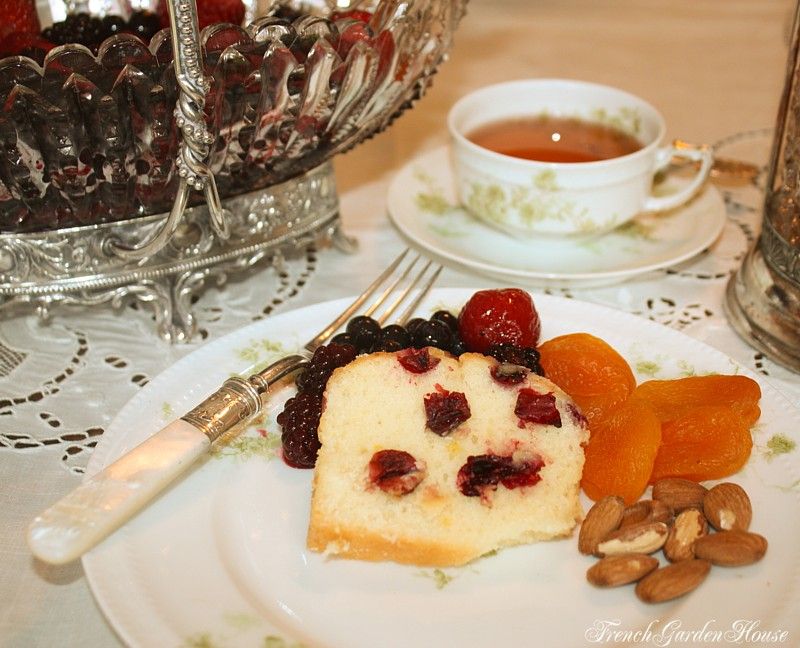 5. Sweet Endings.  Present a variety of home baked cakes along with a deliciously simple mixed berry compote from your sideboard or hutch.  Dried apricots are easy to serve from an antique silver and crystal server, the mixed berries glisten in the Victorian silver compote, to be spooned on each plate.  A beautiful presentation is as easy as displaying the cakes on pedestals or Victorian silver trays, tie a satin ribbon around a few for holiday dress!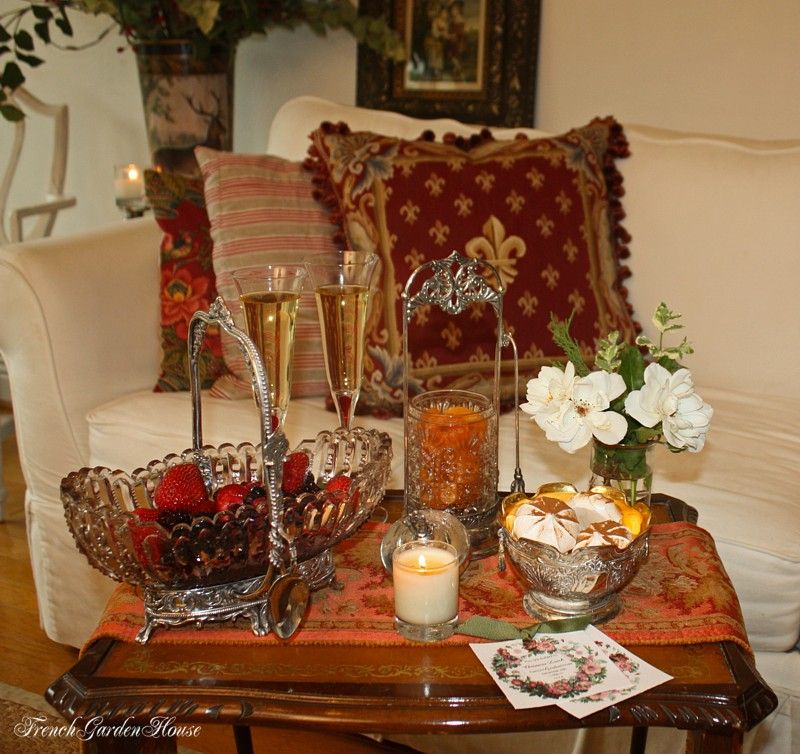 6. Linger over conversation.  Set up a small table filled with sweets and champagne toasts in the living room, to continue the conversation after luncheon in front of the fire.
7. A Parting Gift.   Give each guest a cherished gift of home made cake or cookies when departing. Beautifully packaged, our FrenchGardenHouse Victorian Cranberry Cake is nestled in a box decorated with anaglypta wallpaper, tied with a satin bow and surrounded by fresh greens.  No time for baking?  Store bought meringues are just as thoughtful when presented in an antique glass compote tied with a shimmering ribbon.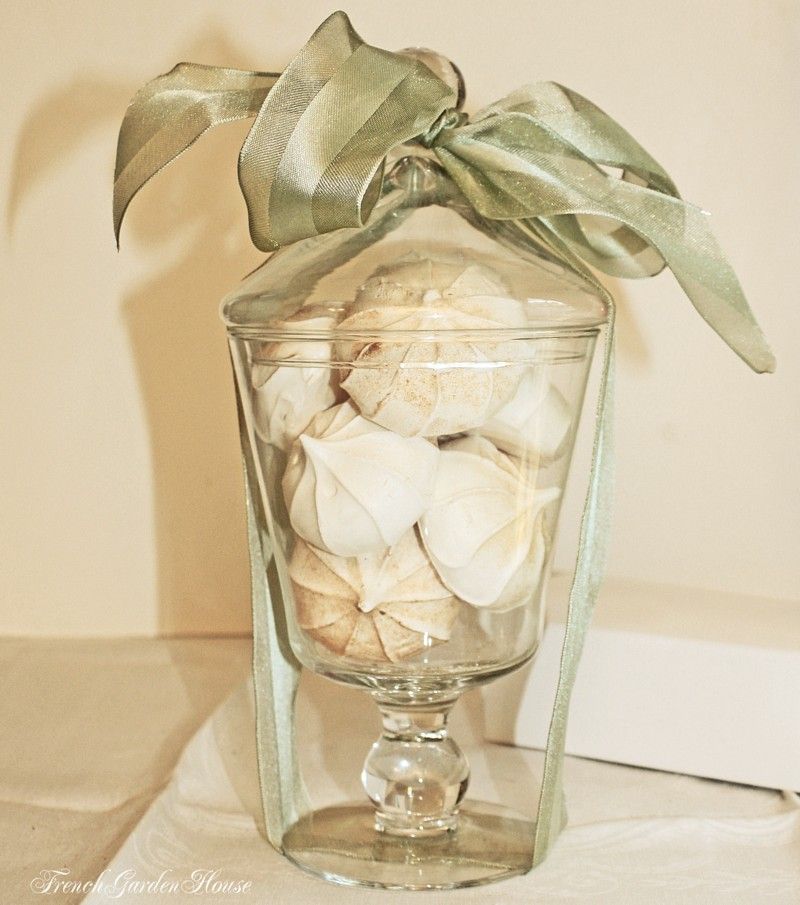 Next time I'll share the recipe for my FrenchGardenHouse Victorian Cranberry Cake.
If you want to romance your Home and Garden with antique and vintage treasures to make you smile each time you come home, visit our shop FrenchGardenHouse.