I've never met a Cafe au Lait Bowl I didn't love!I love collecting useful antiques, things that were used and loved on a daily basis, pieces that we can still use today. The café au lait bowls are not only beautiful, but they serve a purpose, and are a delightful way to serve coffee and hot chocolate, like the French do, but also ice cream, soups, and everything else that fits in a bowl. I love the history of the bowls, wondering who used it, what their life was like, when they purchased the bowl. One more bowl with its own story and history is always welcome in our home, and since they are stackable, the bowls don't take up too much precious space.
The cafe au lait bowls are still being produced all over France, as this is the traditional coffee cup there. It's so much more condusive to linger a little over breakfast, something we don't do too much here in the states, grabbing a mug of coffee instead, and heading out the door!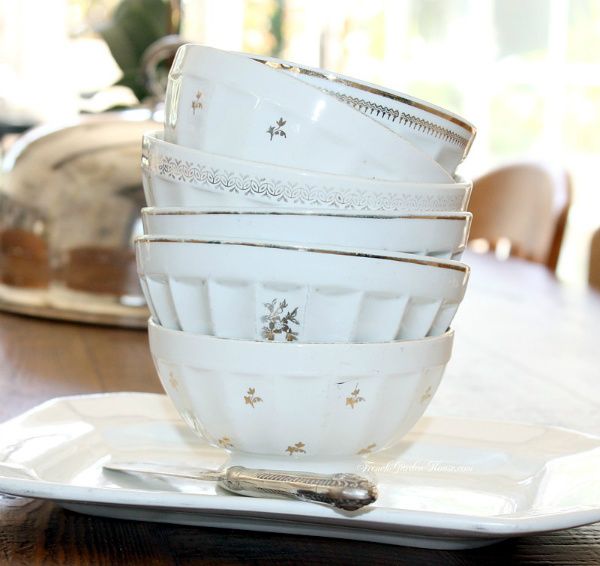 A Turkish ambassador introduced coffee to Paris, France, and in the early 19th century cafes openend and coffee was enjoyed along with conversation and the latest gossip. At first it was seen as just a novelty beverage for those infatuated with all things Turkish. It was the French who introduced milk to coffee – the cultures of Ethiopia and Arabia who enjoyed coffee previously were not milk drinkers, as were the French, who invented "Café au Lait". In the early 19th century coffee was served in elegant Paris porcelain Cafe au Lait cups with a handle, and mostly drunk by the elite. But by the late 19th century coffee was afforable to almost everyone, and the still popular Cafe' au Lait bowls were designed to enable "dunking" of left-over baguettes in the coffee for breakfast. In French families, each family member had his or her own special bowl to use daily, with a distinct design. The bowls were given as gift for special occasions like christenings, communions, and birthdays.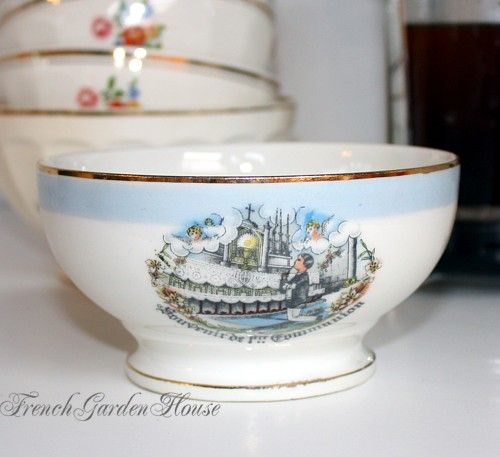 Cafe au lait bowls come in so many colors, shapes and sizes, that you could collect for a life time and still enjoy the thrill of finding a bowl that you have never seen before. There are some gorgeous antique bowls in porcelain, and faienceware available that are quite old, but can still be used every day. Collectors are always on the hunt!
I've noticed that we are selling more and more of the antique bowls, they add charm to any decor. The faience "country" bowls are perfect for those who love French Country, it's quite appealing to have a stack of the antique bowls in a French Country kitchen. Fans of a more cottage or shabby chic decor tend to love the White Porcelain Bowls, or the pastel colored bowls, especially those with gilt decorations or flowers are hotly collected and desirable.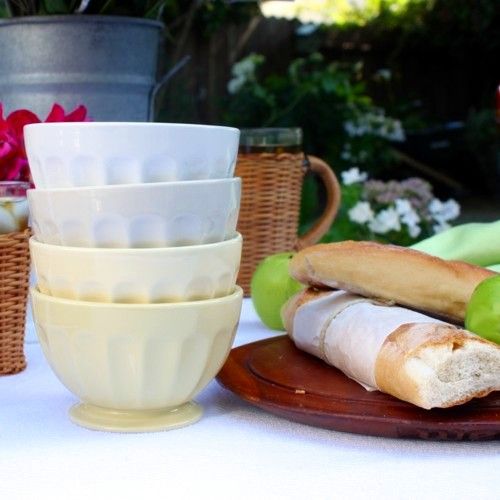 There are so many great new Cafe au Lait Bowls available too. We sell sets of four reproduction café au lait bowls for $44.00, simple vintage and antique bowls range between $35.00 – $85.00 a piece. Very old ones or extremely rare examples like a bowl from 1900 with a Communion transfer design we sold recently can go for a bit more, between $85 – $145, depending on the age, and intricacy of the design. Once in a while we are fortunate to find small children's sized bowls, those are more rare to find, and can range between 85-$185 depending on rarity and design. They are still quite affordable, and it won't break the bank to add another wonderful bowl to your collection.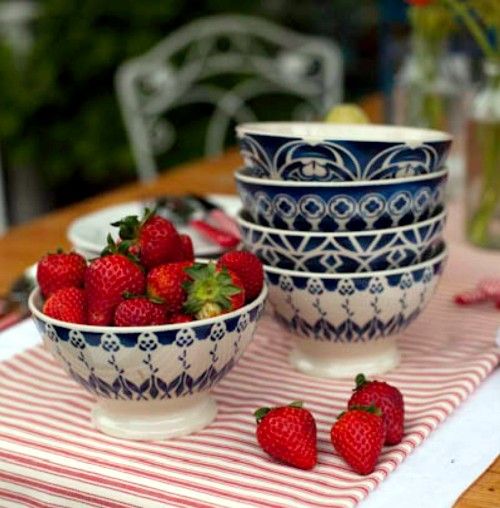 Cafe au Lait Bowls are the first thing I look for on buying trips, and the first thing out of the truck when some of my favorite French dealers come by with their wares. You can sometimes find them at Fleamarkets, or, if you are really really lucky, an antique shop. In France, a good place to find them is le Marché aux Puces de Vanves on the south side of Paris. Another great spot for vintage bowls is Au Petit Bonheur la Chance in le Marais.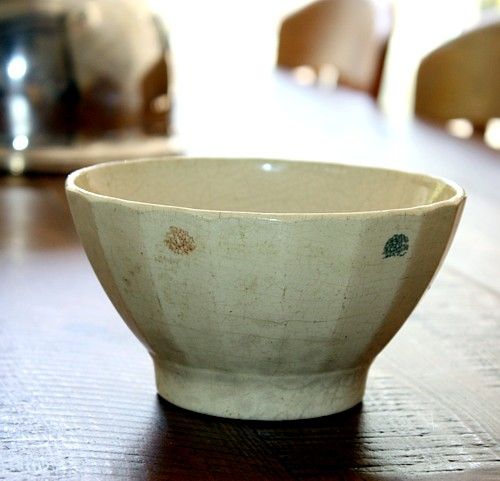 I love stacks of the bowls, and this is how we display them at home. We use them daily, so they are in the kitchen on a stand. I have seen beautiful displays of rows of café au lait bowls on shelves in client's homes where the bowls are treated more as art, their different shapes and colors adding great visual interest to the decor. At one bridal shower I lined up different café au lait down the table and filled each one with one perfect rose as centerpieces. They are so beautiful, you can use them anywhere in your home for a little French touch, one on your vanity to hold your jewelry, several in the guest bathroom to hold soaps, bathbeads, cotton balls. The possibilities are endless! One thing I do recommend is that you don't use the antique and vintage bowls in the microwave or dishwasher. They weren't made for that, and while they are quite sturdy, it would be a shame to have them crack due to temperature differences. Handwashing is always recommended.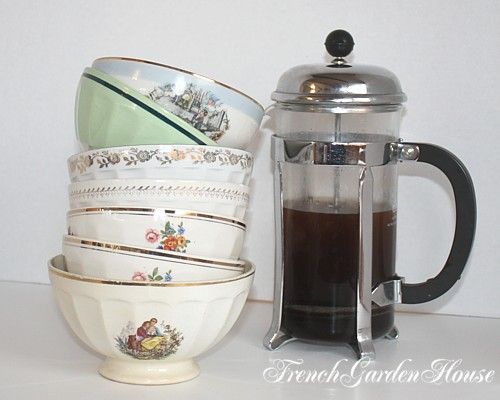 If you find a bowl you love, snap it up and display it with pride. Soon, you will be finding other lovely bowls to add to your collection. Our clients are always excited when we have our latest "finds" online for purchase, as here in the states it's not quite as easy to find great antique café au lait bowls.  The antique bowls tend to sell quickly once we put them for sale on FrenchGardenHouse.com.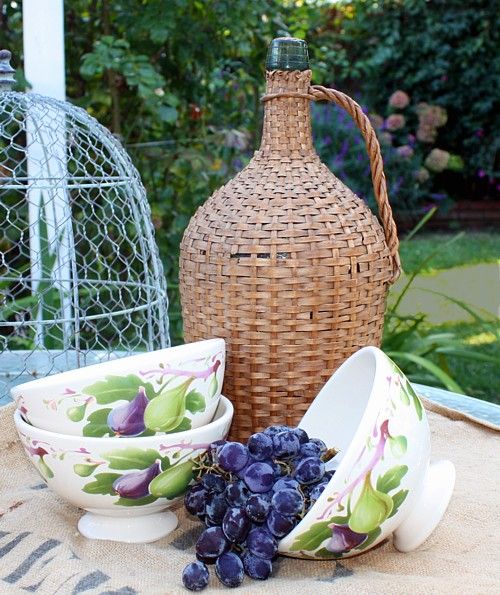 There are many French manufacturers that are still producing excellent and beautiful bowls. We offer the beautiful Fig pattern shown above with Purple Figs that is a particular favorite with our customers.  We sell a few other lines of reproduction bowls that are fun and colorful, the patterns are always changing.  My current favorite is the Cremerie Line, a perfect set for breakfast, or any other petit meal, such as soup and bread, or cake and ice cream!   You can find it Here , the color combination of Creamy White with Red & Blue makes it such a classic.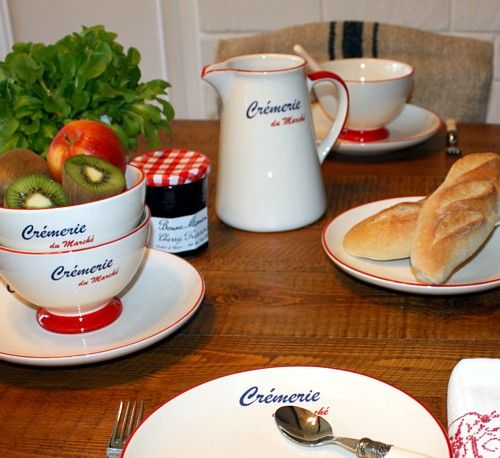 You can read all about Cafe au Lait Bowls in the June issue of Cottages & Bungalows, it was great fun for me to work with the editors!  Be sure to pick up a copy, it's filled with so much decorating and diy inspiration! Press pass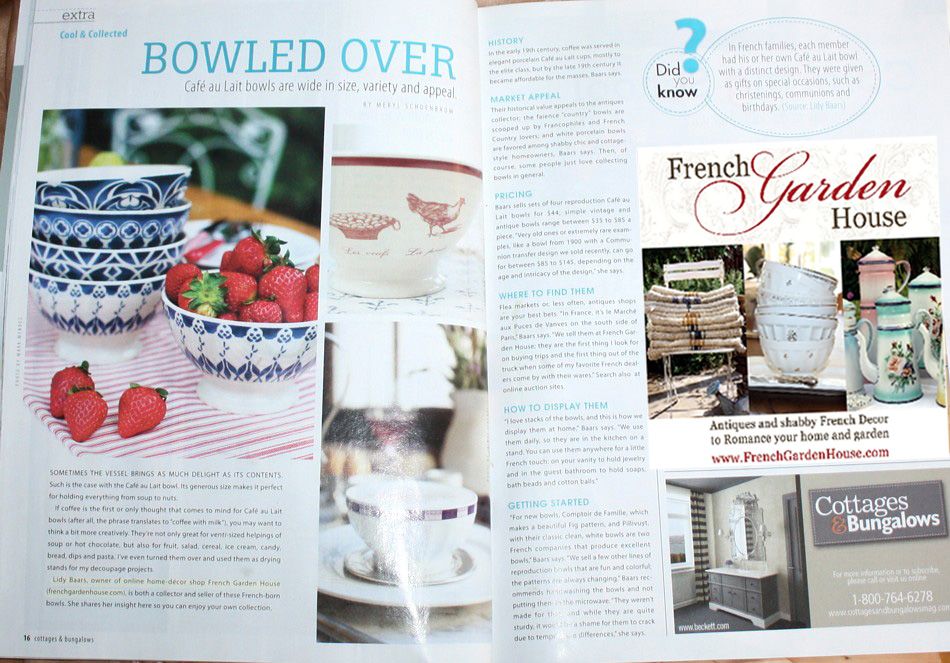 If you want to romance your Home and Garden with antique and vintage treasures to make you smile each time you come home, visit our shop FrenchGardenHouse.